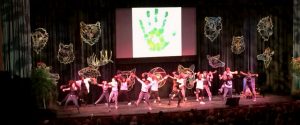 The WE Summer Day Camps are an opportunity for youth ages 6-12 to spend a week in the field with our team of mentors—exploring, learning, and having fun while connecting with their own wild and true selves, one another, and the natural world. These curiosity and passion-led nature camps provide unforgettable experiences while developing an appreciation for the beautiful and wild places so close to home.
At Weaving Earth we do not see ourselves as simple spectators of nature! We are actively engaging with leaf and branch, feather and frog, mud and wind. Interacting with the land in hands-in-the-dirt play is a time-tested way to provide young people with an embodied sense of connection, as well as build self-confidence, curiosity, empathy, and individual creativity. Through this connection, a genuine love of place is born, as is a natural desire to steward the land in a way that is rooted in deep respect, reciprocity and interdependence.
Our playful and well-trained nature camp staff bring a breadth of knowledge and skill, which they offer generously in response to the interests and curiosities of the children who show up. This means that no two weeks of summer nature day camp are ever the same, as they are tailored to meet the needs of each group and individual, as well as being influenced by the seasons, the weather, and whatever might be happening on the land at that particular time.
Creating a Stronger Sense of Self-Confidence
Still, there are a number of activities that we like for all of our participants to experience during their stay at our nature day camps, including imaginative play and games, storytelling and song sharing, ancestral crafts, wilderness skills, sensory awareness games, learning wild food and medicines, archery, wildlife tracking, field journaling, communication skills and peacemaking, camouflage and stalking, and more.
While there are many different types of summer day camps to choose from, Weaving Earth offers an especially exciting and beneficial option through our youth summer camp programs, which welcome youth from ages six through twelve to join us for a week of fun and outdoor activity. Our camps are rooted in the idea that interacting with nature and engaging in hands-on play outside offers an incredible learning opportunity. We don't want participants of our summer day camps to simply observe nature—we encourage them to interact with it, too.
Studies have proven that children who interact with nature on a regular basis have stronger senses of self-confidence, curiosity, empathy, and individual creativity. They are also able to develop a heightened self-connection with nature, themselves, and others, which positively influences all of the different types of relationships in their lives and improves their overall physical and mental health. We embrace this sort of holistic education during our nature day camps—our staff of trained guides are all experienced in wilderness education and are ready to offer guidance, support, and insight to anyone who needs it. Contact Weaving Earth for more information today!