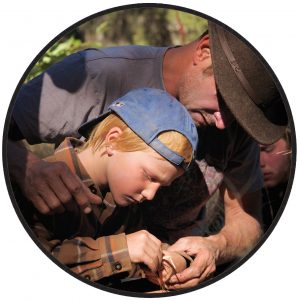 We believe that a hallmark of healthy culture rests in acknowledging and honoring the transitions that we as human beings go through during the course of our lives. Some of these notable transitions, among many others, are birth, puberty and first bleeding for female-bodied individuals, adulthood, elderhood, and ultimately death. In a culture that values and supports such transitions, each would be prepared for, witnessed and marked ceremonially as an initiatory experience.
As part of our teen backpacking series, Weaving Earth offers a unique program called Graduating Into the Wild. This trip is designed especially for high school seniors in order to offer them an opportunity mark and honor their transition into adulthood, and whatever awaits them after graduation. We developed this program in conjunction with our Honoring Transitions work to recognize the significance of high school graduation for young people in today's world. Graduation is a moment that holds a lot, yet often does not get the full attention and care that it deserves. For many, it is the closest thing to a "threshold into adulthood" that they will ever have. Our goal is to provide an experience that places the true value on the importance of this moment – not just because it often marks a time of leaving home, but also because it carries with it the development weight of movement towards a new stage of life: Young adulthood.
School of Lost Borders and Weaving Earth Partnership
Since its inception, Weaving Earth has been deeply influenced by the work of the School of Lost Borders, which has been reinvigorating nature-based ceremonies of initiation for more than forty years—offering invaluable wisdom and insight to thousands of people along the way. Founded by Stephen Foster and Meredith Little, the School, in its own words, offers programs that "cultivate self-trust, responsibility, and understanding about ones' unique place within society and the natural world. Its programs provide guided opportunities, perspectives, teachings, and much needed self-reflection time in a non-judgmental yet challenging environment."
Perhaps no passage in life's cycles is more deserving of significant marking than the threshold between adolescence and adulthood. Graduating Into the Wild is an extended backpacking trip that centers around a two-day solo experience in the middle. The chance to sit alone in nature, with time to consider ones dreams, hopes, values, and fears, as well which attributes of healthy adulthood feel most important for them to embody, is an invaluable opportunity at this life-stage. Additionally, the "ordeal" of solo time in the wilderness often reveals more about ourselves than we might expect – essential knowledge and necessary self-confidence that often only emerges when we are stripped of all other distractions. Our guides are experienced wilderness survivalists and come with training both from Weaving Earth and our partner organization, the School of Lost Borders. Together, we strive to remind participants to listen to who they are and be their best selves as they venture out into the world. For more information on the work of School of Lost Borders, follow this link: www.schooloflostborders.org
For more information on our Graduating Into the Wild, our other Backpacking Trips for Teens, our Summer Camp for Kids, contact Weaving Earth today.