All of our youth programs focus on connecting children to nature, to one another, and to self through direct experience and meaningful play. Our students gain a deep knowledge of place by learning to identify local flora and fauna, understanding habitat ecology and how to help it thrive, and learning how to interact with wildlife in a healthy way.
We foster celebration of, relationship with and commitment to our local ecosystem. We create an environment where youth feel comfortable in nature, and have the opportunity to form personal relationships with their wild neighbors. Youth programs are designed to let the child's curiosity and passion guide their learning. We emphasize nature as our greatest teacher. Natural cycles lead the way.
The following is a list of our deep nature connection, curiosity-led programs for youth:
---

The Wild Tenders nine-month youth program is a nature-based learning journey for youth ages 5-12.  The program is offered for one or two days, Thursday and Friday, and runs alongside the WE Immersion adult program, helping create a holistic, multi-generational village in which all ages are interacting, sharing experience, and learning side-by-side. During the Wild Tenders program, we foster the celebration of, relationship with and commitment to our local ecosystems.  Read more…
---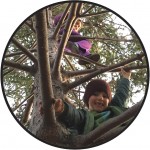 The WE Summer Series Program is a chance for youth ages 6 – 12 to spend several days in the field with our team of mentors, exploring, learning, and having fun while deepening connection to themselves, one another, and the natural world. This curiosity & passion-led program provides unforgettable experiences while developing an appreciation for the beautiful and wild places so close to home.  Read more…
---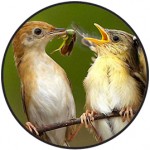 Bird Language is an ancient skill that people have used to help them survive and thrive for thousands of years. By strengthening our listening and awareness skills, we become more sensitive to the surroundings and to others, thereby enhancing the ability to experience empathy, compassion, & attentiveness.  Join Weaving Earth's trained team of mentors for this weeklong, family-friendly event: The 8 Shields Bird Language Intensive!  Read more…
---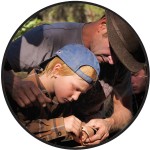 FAMILY CAMPS
We offer a number of programs that have something for everyone in the family!
The 9-month Wild Tenders program for ages 6-12 runs along side the WE Immersion 9-month program for adults. This is our keystone offering and we have had many families come through the program in the past. If you are interested in this offering, please contact us ASAP as we expect both of these programs to fill!
---
More about our youth programs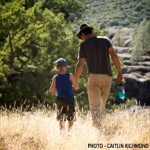 Tending to both the social dynamics and inner emotions are an important part of mentoring youth in nature. The natural world allows for children to find their inner voice and listen to that inner voice as a guide. Trust begins to develop over time and children build a stronger sense of self and inner strength. We model and share peacemaking and conflict resolution practices in creative, fun and genuine ways, supporting the children to create healthy boundaries, comfortably share from the heart and practice deep listening. It is our intention to create a safe and supportive community for the children to be their brightest selves!
Our programs help your children to connect through:
Seasonal-based curriculum
Gardening & harvesting
Tending the wild
Storytelling & song sharing
Gathering and preparing wild food and medicine
Gathering materials for shelter, fire, & wild crafting
Primitive skills
Field journaling
Bird watching and identification
Wandering & curiosity led learning in the field
Peacemaking and conflict resolution
Awareness games
And more…
For more information on WE youth programs, please contact: melodie@weavingearth.com
SaveSave