What is Bird Language?
Bird Language is an ancient skill that people have used to help them survive and thrive for thousands of years. The birds are the "newsfeed" of the ecosystem – they tell us where water, food, safety, or danger is. They put a soundtrack to the movements that surround us, noting the subtle energies that shift and change. The practice of bird language helps to strengthen our listening and awareness skills, and supports our ability to listen and respond to our intuition. We become more sensitive to our surroundings and to others, thereby strengthening our mentoring and leadership skills. In an era marked by increasing disconnection from nature, self, and others, the practice of Bird Language gives us the tools we need to be more successful in our relationships, careers, communities, and personal lives by enhancing the ability to experience empathy, compassion, & attentiveness. Engage all your whole being in our immersion program and wildlife tracking as well.
The History of Bird Language, by Jon Young, author of What the Robin Knows
For as long as humans have interacted closely with the land and animals, the behavior of the birds has been interpreted – in varying degrees of accuracy and for many different purposes. Common patterns of behavior exist in birds around the world. These patterns can indicate to observers the whereabouts of unseen people, predators, and other animals on the landscape.

This type of knowledge is common in hunter-gather societies and is still evident in cultures today ranging from the peoples in the Amazon jungle to those living in the arid Kalahari desert. The mythologies and epic tales of many ancient cultures convey, in often veiled tones, the mysterious nature of the utility that comes from developing a sensitivity to bird language – the ability to detect the unseen, an indispensable tool for both the hunter and protector.
Bird Language Courses
---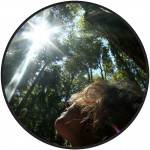 WEEKLONG INTENSIVE – AN 8 SHIELDS EVENT
During this weeklong intensive, you will be immersed in a village of mentors and learners, some of whom have been practicing bird language for many years, and some who are brand new. Your participation in daily activities will open you to a new world of understanding on how to be more attentive to your surroundings, sensitive to how you affect others, and help you achieve a quiet mind, resulting in increased peace and happiness. Read more…
---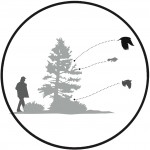 SATURDAY SERIES
This bird language course is a series of day-long events, making it possible for participants to attend just one, or all classes in the series. Participants will get hands-on experience in Bird Language, learning to expand your awareness, deepen your knowledge of your bio-region, and creating a stronger bridge between yourself and the natural world. Read more…