Experience The World Through the Eyes and Ears of the Birds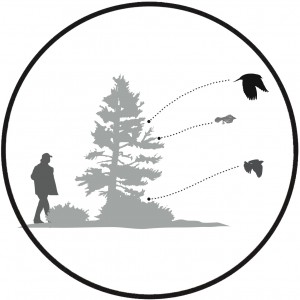 Birds are the strongest allies we can find in wild nature for building connection to ourselves, to others and to the environment that surrounds us. They are typically far easier to observe than mammals, and their rich and beautiful songs, alarms and other voices narrate, in great detail, the ongoing story of the landscape. By tapping in to what they are saying and doing, we can grow our ecological knowledge and discover more fully our own place in the web of life.
It doesn't matter if you're a life-long birder or if you can't tell the difference between a bald eagle and a night heron. This course is for anyone who is interested in learning the language of the birds and how it can enrich one's personal life, regardless of prior experience.
During this weeklong intensive, you will be immersed in a village of mentors and learners led by the Weaving Earth team. Daily activities are designed to help you become more attentive to your surroundings, more sensitive to how you affect others, and more connected to your own quiet mind—a state of being that we have found is directly tied to peace and happiness. Regular practice of bird language builds a solid foundation for personal focus, holistic awareness and healthy relationships.
Program Details
DATES: 2018 dates TBD
LOCATION: WEST SONOMA COUNTY, CA.  *Details given upon registration
ACCOMMODATIONS: Camping space is provided on site and is included in the tuition. If you prefer, there are many local indoor accommodations in nearby towns. 
FOOD:  Three delicious meals/day are catered by our wonderful chef Carin of Culinary Magic. We use organic and local foods whenever possible and can accommodate gluten free, vegetarian, vegan and other dietary preferences. Please let us know your preferences upon registration
COST:  For this event we offer three pricing tiers (see below). Tier 1 tickets are priced below the cost per participant, while tiers 2 & 3 are priced above cost. By choosing a higher price point, you are making it possible for us to offer reduced tuition to those who cannot afford the full price. This is done as part of an effort to make this event as accessible as possible. Thank you for choosing the price point that is appropriate for you!
Tier 1 = $650
Tier 2 = $750
Tier 3 = $850
Work trade options available. Contact ann(at)8shields(dot)org for information
2018 DATES TBD
To be notified when registration opens, please sign up for our newsletter below
Any registration questions can be directed to info(at)weavingearth(dot)com:
This is a Family Friendly Event!

Creating a village—where the whole family is welcome, supported and growing together—is so important.
In that spirit, there are youth nature connection programs for children aged 5-16 at the event. To learn more, click here: Bird Language Intensive for Youth
SaveSave
SaveSave
SaveSave
SaveSaveSaveSave
SaveSave